Become a top-scoring Methods student for less than $1/day. Understand the subject intuitively with Forestree's all-in-one Unit 3&4 Maths Methods course.
Hello, we're Forestree Academy.
Methods can be tricky. Trust us, we get it – we did it in 2020. With the year it was, we wish the subject was easier!
…So we made an online course. Packed with everything we learned and used to make it easier, for you.
Form an intuition-based understanding of Methods and consolidate your knowledge with exam-style question examples
The Forestree High Achievers Team teaches you absolutely everything we know in this master course, leaving no concept behind.
With the Forestree course, you will find the most effective question modules and Victoria's first specialised exam preparation modules powered by the most advanced Learning Management System.
All for less than $60/term.
Lay foundations with Functions
Functions & Graphs: the first AOS of VCE Methods. A sound understanding of this area powers your learning throughout the rest of the year. It's presented by our Senior Tutor Laurence, who scored an impressive raw 48.
Perfect the art of Calculus
Calculus is perhaps the most important AOS, accounting for more than 60% of questions in the final exam and often found in the most difficult separator questions. Who better to teach it than our Co-Founder Larry, who achieved a perfect raw study score of 50!
Master chance and Probability
As the final AOS of VCE Methods, Probability covers a range of real-world applications. Though a polarising area in every cohort, this is passionately brought to you by our Co-Founder James, who never dropped a mark for it and scored a raw 49.
video lectures for every topic in the Methods study design
cheaper than the average high-level tutor
diagnostic topic tests to assess and consolidate your knowledge
tutors who scored Top 1% in Methods
SUPERCHARGE YOUR CONFIDENCE
Power-up your exam study and revision with exclusive modules and resources
We'll leave you in no doubt that the Forestree course is designed to be all-in-one. With these never seen before resources, personally developed by the Forestree High Achiever Team, you'll be on the accelerated path to becoming a high achiever too.
Mastering the art of the ✨CAS✨ saves you up to 15 minutes in Exam 2, and our comprehensive walkthrough will show you how.
Larry and James' bound references, and the trusty advisors that helped them achieve their 50s.
Revising for exams is more than an endless past paper grind, and that's why we've built this bonus module, designed to guide you through every step of the way.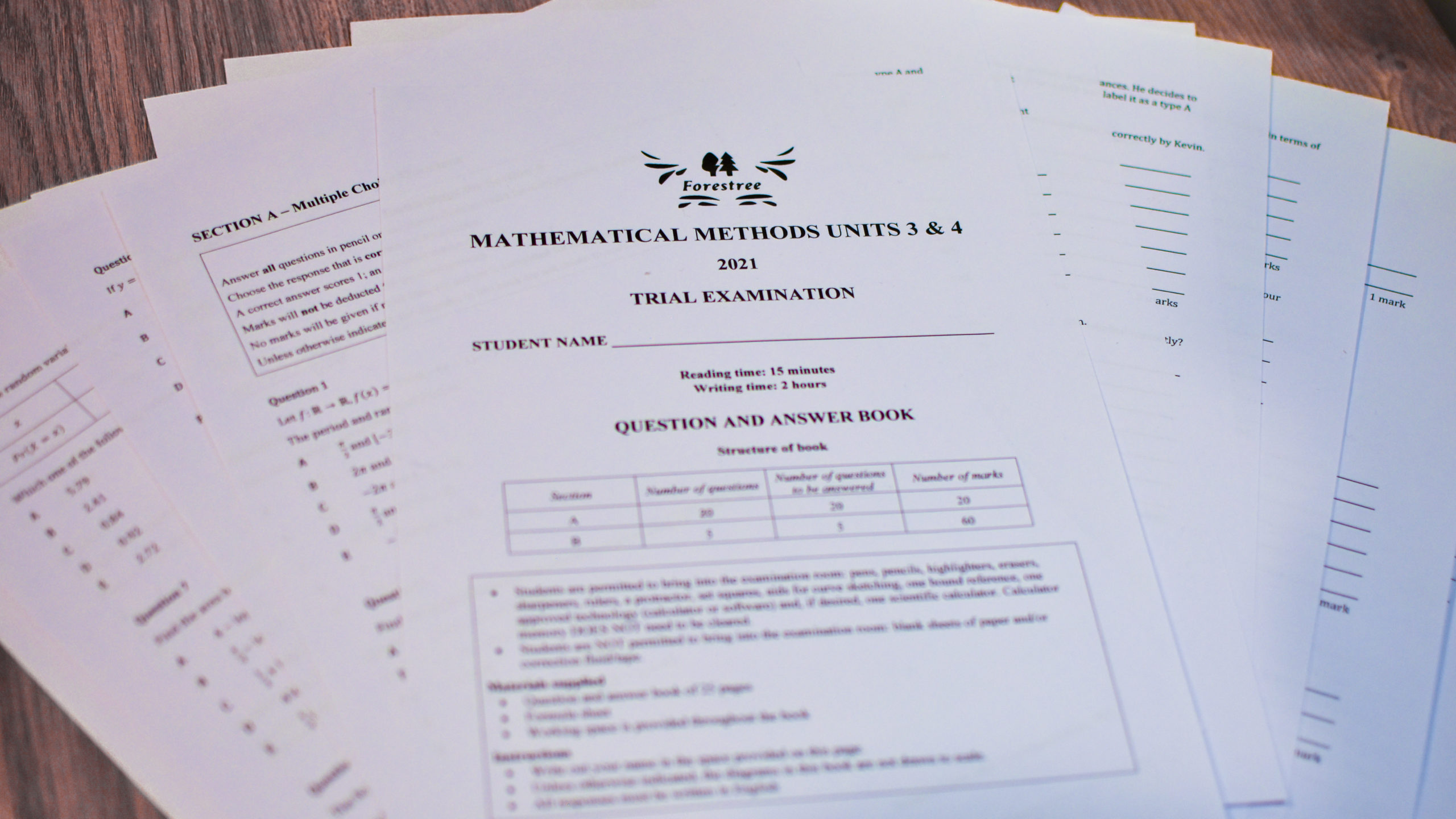 Having done 100+ unique practice exams, we produced the highest quality 2021 trial exam set ever. Forget too hard or too easy, Forestree Trial Exams are precisely VCAA level, and come with our signature High-Achiever annotations.
Victoria's first specialised module for the exam questions less than 10% of the state got correct. We've combed through all Methods exams to identify 7 of the most common separator types.
Crafted and curated by our Head of Learning and Content Carlos, who scored a perfect raw 50, these topic tests help you target your weaknesses and study at maximum efficiency.
A new kind of online course
This isn't your typical, boring online course. It's a fully immersive learning experience. The classroom has been digitised and transformed, allowing for an interactive education, personalised support and a community that just keeps on giving.
At Forestree, we're tree enthusiasts! Our courses are categorised into Trees (like Mathematical Methods), comprised of several Branches (like Calculus) and then Leaves (like Differentiation Techniques!). From little things, big things grow.
Explore resources in your very own Forest
Your Forest is your go-to domain for topic tests, bound references, trial exams and so much more.
Ask unlimited questions, 24/7
Leave a question on any of our lesson pages to receive a reply from the Forestree High Achiever Team within 24 hours.
Hi Larry,
How significantly would the method change if there was a closed domain in the question instead of the domain being all real numbers? Essentially, in what way would we be applying the closed interval method for these problems?
Wonder who's teaching you?
Forestree not only teaches all the concepts concisely and clearly, their resources are absolutely remarkable. I learn best from doing practice questions, and their diagnostic tests, difficult question bank and full mock exams are exactly what I needed.
Christine D
Accelerated student
2022 Cohort
1-year access to the MM Masterclass and supplementary materials.
2023 Cohort
2-year access to the MM Masterclass and supplementary materials, a competitive head start advantage.
World-Class LMS
Our Learning Platform digitalised the classroom, allowing for an interactive education, personalised support, and a community that just keeps on giving
Quality Course
Each of our VCE course is taught by a raw 50 achiever, we have the best teachers you can find!
24/7 Support
We provide you with 24/7 dedicated support about any possible queries and assistance that you need in your VCE journey
50er courses for less than A$60 per term?
Still got questions? Here are the answers.
Frequently Asked Questions
If your question isn't listed below, you can DM us on Instagram @forestreeacademy or email us at [email protected].
All downloads, including topic tests, mock exams and bound references, can be found in "The Forest" in our student portal. Simply click the download button.
Whatever your needs, keep in mind that every Forestree course is designed to stand on its own, even for students who don't have access to the best resources. Nonetheless, day school teachers mark your SACs, so it is wise to take their advice for school assessments. For everything else, we take pride in being more than a typical tutoring institution – we are your VCE Academy! 
Of course! The Forestree VCE Unit 3&4 Maths Methods Course is appropriate for any students studying or thinking of studying of VCE Unit 3&4 Maths Methods. We recommend it for those in Year 10-12.
While Year 10-11 students may use it as a tool for pre-studying a concept to maximise their results further on, those studying Unit 3&4 may instead choose to focus on exam and CAS techniques or consolidate concepts taught in their day schools.
Bear in mind that Methods 1/2 and 3/4 have little to no difference, so it is good to get ahead.
Subscribe To Our Newsletter To Get The Latest Updates